We know that heel heights seem to be ever increasing, but surely there must be a limit? We thought it might have been reached back in 2010 when we covered the 9 inch high heels which we then thought were the highest high heels in the world.
They even towered above Christian Louboutin's 8-inch, Swarovski encrusted, red-soled spiked ballet heels which were produced in 2011 as a one-off and auctioned to raise money for the cash-strapped English National Ballet.
Well now there is a new contender for the highest heel in the world, and it is commercially available.
These extremely high platforms are available via our affiliate link to AliExpress for just over $100.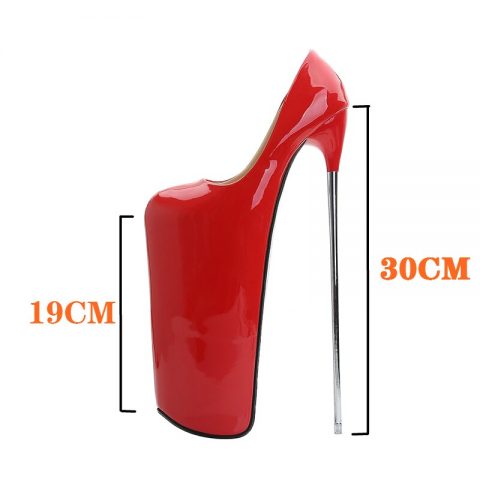 This extreme platform high heel pump has a whopping 12 inch high heel (30 cm). For stationery buffs, that's as tall as your ordinary ruler.
What is probably the world's tallest shoe has a 7.5 inch platform (19 cm), meaning the effective rise of the heel is 4.5 inches. Yup, it isn't even as steep as a 5 inch heel (just!).
Not easy to walk in though.