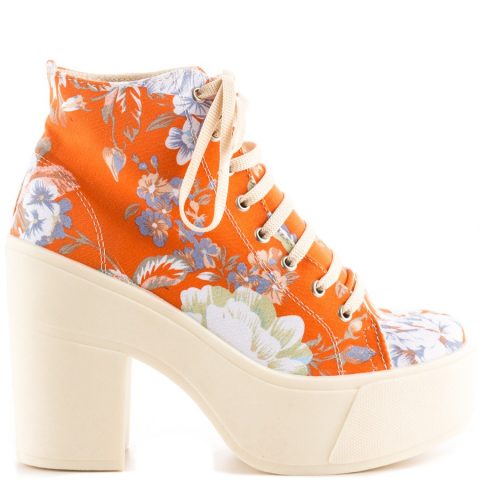 When Shellys London relaunched last year, I covered the event more in hope than expectation. Chunky platforms seemed like a trend that might not last forever (and it probably won't), and I wondered just how much nostalgia people really would have for the 90's. I'd pretty much written Shellys London off as a flash in the pan.
Sometimes it's nice to be wrong.
Shellys latest contribution is a sneaker heel, a genre which is ever popular and mysteriously not made by all that many labels.  Great then to lay my eyes on this 1970's style sneaker (Man About The House, anyone?) on orange canvas fabric printed with a pretty floral pattern.
The shoe has a 4 1/2 inch thick heel and 1 1/2 inch platform. It's called Asuven.
UPDATE, March 2018: unfortunately this high heel from back in 2014 has SOLD OUT. It was available for $90 back in the day.  We have removed the dead links accordingly.