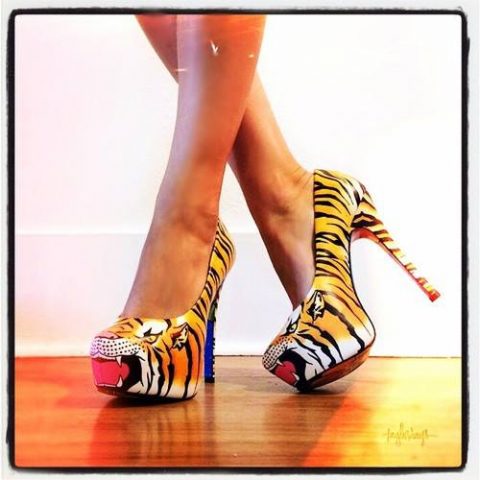 There are fuck me shoes, and then there are don't fuck with me shoes. The awesome new tiger pumps from TaylorSays  are firmly in the second category. This is one arse-kicking, head-turning, spirit-lifting pair of shoes to lay your lazy eyes on girlfriend.
(EDIT, April 2018: these pumps are no longer available. If this changes, a link will be added)
As the photos show, the leather Tigres pump features a roaring, open-mouthed tiger at the vamp of the shoe – ideal for telling people that you mean business! A tiger striped print covers the rest of the upper, and the shoe also has a colorful printed sole as we've come to expect from TaylorSays. The sole on Tigres is a pretty hibiscus.
The feline footwear sits atop a 5 1/2 inch heel, with a 1 inch hidden platform. Social media has gone mad for these shoes, so you can expect the limited stocks at heels.com
won't last forever. To let the cat out of the bag, we'd suggest heading over there without too much delay.
If you'd like to read our profile of the self-proclaimed "crazy blondie from Southern California" Taylor Reeve (the artist behind TaylorSays) instead, please go here. More pictures of the tiger high heels follow below.
Damn there should be more shoes like this.