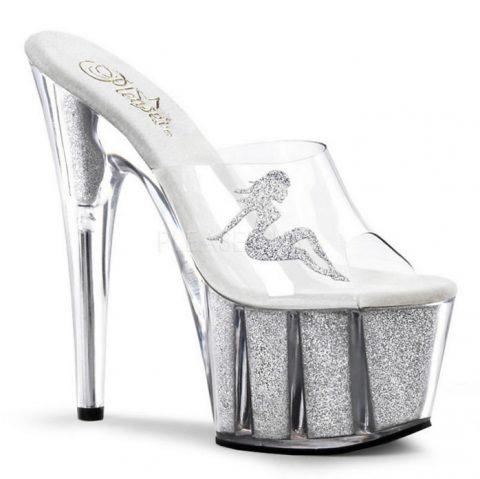 The classic Cinderella slipper – a mule with one clear, PVC strap and a clear heel – can be worn as a prom shoe, or at weddings and can frequently be seen on contestants at body building, fitness competitions and other pageant events. But dress them up or down as you might, clear heels will always be known by one name: stripper shoes! These ones are available from ShoeBuy.com for $54.95
.
The shoes may have been famously called "nasty" by comedian Chris Rock (see the video at the bottom of this article) but the truth is that clear heels have been popular sellers for years, and not just for the bedroom. The recent pole dancing fitness craze saw sales of see-through slides soar (although experts generally recommend that beginners especially start on the pole with a shoe with more than one strap). And despite all this, the clear heel remains popular for its original purpose as a stripper shoe: the illusion it creates of an elongated leg creates an instant appeal for onlookers!
The HighHeelsDaily.com guide to stripper shoes is below and should cover all you ever wanted to know about these shoes, and more. The topics we cover in depth below include where to buy stripper shoes, how to fit them and what the shoes are made of (you'll sometimes hear them called lucite heels for example, which should give you a clue).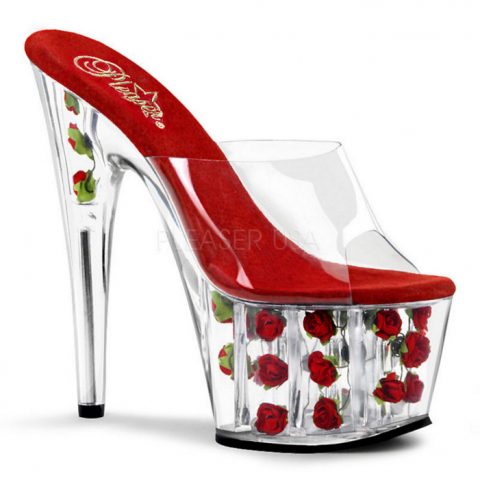 Red Adore stripper shoes by Pleaser, available via ShoeBuy.com for $57.95
.
Buying stripper heels
The number one rule when buying stripper heels is that you should buy a decent brand. You're not going to be shelling out hundreds of dollars for your bedroom heels whichever brand you pick, so you might as well go for the top-of-the-line. If your boyfriend or husband wants you to wear them, then make him pay!
The most famous brand of stripper shoes by far is called Pleaser. They've been in business since 1993 and make literally hundreds of different high heeled shoes, but they specialise in stripper heels. The Pleaser brand is even recommended by Sarah Tressler in her Diary of an Angry Stripper ("A good stripper stiletto is the Nike of high heels," Tressler once wrote in her now defunct blog).
Members of the public can't buy high heels direct from Pleaser (they are strictly a manufacturer and wholesaler only) so you need to go through a retailer to get a pair.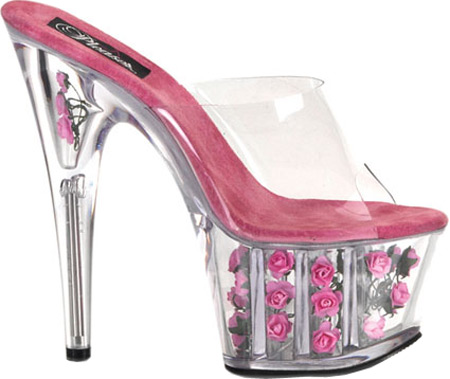 We recommend ShoeBuy.com
as our retailer of choice: they have probably the biggest collection of Pleaser footwear on the web (please note that if you buy via this link we will receive a small affiliate commission). The Pleaser range stocked by ShoeBuy.com includes the Wpink stripper shoes pictured above for $54.95
.
Fitting stripper heels
When your Cinderella heels arrive you'll obviously need to put them on. You would not think instructions are necessary for sliding on a pair of sexy mules but there are a couple of tricks.
First, the straps may be really tight to begin with, sometimes too tight to get your feet into at all (they will stretch and mould to your feet over time). One tip is to first try them on with stockings. This will make it much easier to slide into the shoes for the first few times you wear them.
Secondly, if stockings don't work you can stretch the strap of the shoes by heating it gently with a hair drier. Once the strap is warm, put the shoe on (being careful not to burn yourself because that would be silly and it will hurt). The straps should then mould to the shape and size of your feet.
Other tips you may hear for stretching clear heels include putting beans under the straps (they expand when exposed to air) and freezing them with bags of water under the straps (the water expands when it turns to ice). We have never tried these and they sound messy and ridiculous. The hair drier works. Use the hair drier.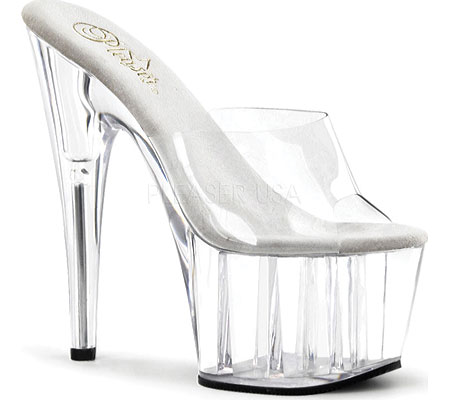 Clear white stripper shoes by Pleaser  –  $41.95 online from ShoeBuy.com
.
What are clear heels made out of?
The heels of stripper shoes are usually made from poly (methyl methacrylate) (PMMA), a transparent thermoplastic sometimes called acrylic glass. The substance is popularly known as lucite and stripper shoes are often called lucite heels for this reason.
The material used to make the clear upper of stripper heels is usually either polyvinyl chloride (PVC) or polyurethane.
What is the history of clear heels?
In her book Shoes: A Celebration of Pumps, Sandals, Slippers & More
author Linda O'Keeffe traced the origins of the modern clear heel to an "invisible sandal" created by Salvatore Ferragamo in 1947. The Ferragamo heel used thin nylon threads to make a vamp and slingback. The concept was based on fishing line.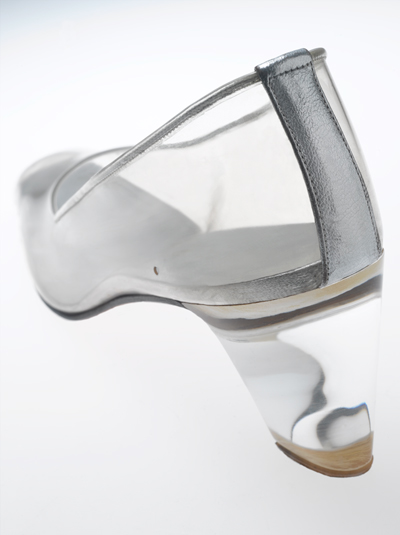 O'Keeffe also notes that in the 1950s, America's "First Lady of shoe design" Beth Levine used a ruffled clear acrylic upper on a pair of flat sandals. Following on from this, Levine produced the Cinderella heel shown above in 1961 (the image is from the book Beth Levine Shoes
).
Nina made a similar closed-in clear heel in the 1960s, and the clear mule style (often outlined with rhinestones) became commonplace that same decade. O'Keeffe's book has a picture of a single-strap clear heeled mule with a transparent wedge from Neiman Marcus in the 1960s. The rest was history.
Is it true that many top-end designers have made clear heels?
See-through heels have been on and off trend for many years now, and over that period a good number of famous designers have produced their versions of Cinderella shoes. On this website we've covered attempts to incorporate PVC in shoes by designers such as Christian Louboutin, Nicholas Kirkwood, Oscar de la Renta and Stuart Weitzman to name but a few.
Celebrities in PVC heels
Celebrities have also been spotted in shoes which incorporate at least some PVC. Witness for example Hayley Atwell getting about in the Unbout Illusion pump from Christian Louboutin's Spring / Summer 2012 collection. On 6 February 2013 Kim Kardashian instagrammed her set of not one but four different pairs of the Unbout Illusion see-through pumps! The picture (shown below) was liked by 251,000 fans.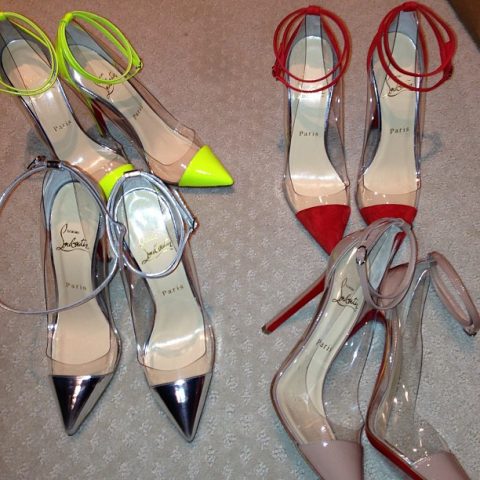 Clear heels and comedy

One of the most famous mainstream mentions of clear heels is comedian Chris Rock's stripper shoe routine, in which he asks "when did clear heels become the new whore uniform?" and opines that they were chosen because they are nasty! You can see a video clip of that routine below.
FAQ about stripper heels
We're tried to cover many frequently asked questions about stripper heels in this article. If you have a question about these shoes and we haven't answered it please contact us and we'll do our best to find out the answer and add it to this article.
Thanks for reading our guide to stripper shoes.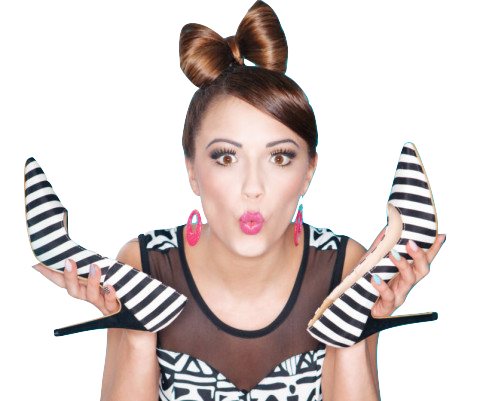 Learn to walk in high heels more comfortably
Master the skill of walking in heels without wearing them every day!