Converting between international high heel sizes is not as difficult or painful as you might think.
Our free shoe size conversion chart will help you swap between USA shoe sizes and European, Australian and British sizes easily.
Below the chart you will find lots of helpful information to help you to convert high heel sizes.
Please also read our FAQ for the most comprehensive information about converting heels from US sizes to European and English sizes.
Free international high heel size conversion chart
Use this guide to switch your high heel size today.
| | | |
| --- | --- | --- |
| US / Australian heel size | European size | UK size |
| 5 | 36 | 3 |
| 6 | 37 | 4 |
| 7 | 38 | 5 |
| 8 | 39 | 6 |
| 9 | 40 | 7 |
| 10 | 41 | 8 |
| 11 | 42 | 9 |
| 12 | 43 | 10 |
FAQ about high heel shoe size conversion
Do you have questions about shoe size conversions? Good! We have many answers here.
Is your chart 100% accurate? 
The information in our chart is more than a guideline. It's the absolute best guide you'll find anywhere.
Unfortunately sizing and fit may sometimes vary between brand and not everyone agrees about conversions either.
Our chart has the most commonly-published women's shoe size conversions. If you disagree, drop us a note.
The shoe brand I'm buying has a different conversion guide. Should I use yours instead?
As we say, not everyone agrees about these things.
Where a brand publishes its own conversion guide, you should use that.
How do I adjust for half sizes?
For half sizes, just add on 0.5 to each measurement.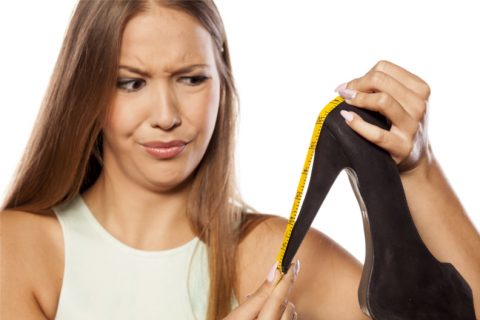 Does high heel height increase with size?
Yes, for most high heels the height of the heel will increase as the size of the heel gets higher. This maintains the proportions of the shoe.
To read more about measuring the height of high heels, please check out our measuring guide here.
What is the difference between US and Australian shoe sizes?
US and Australian sizes for high heels are exactly the same.
You do not need to convert between US and Australian high heel sizes.
How does the heel conversion chart convert between US and UK sizes?
The shoe size conversion between US and UK sizes is based on the rule which the most authorities rely on: just take away 2 sizes to go from a US size to a UK one.
It's easy really and most shoe designers convert their sizes this way!
However a small number of manufacturers recommend deducting 3 sizes (Christian Louboutin is one of these), and occasionally we see some slight variations to this rule.
If in doubt, we recommend that you ask the manufacturer.
What's the most popular shoe size?
The most popular women's shoe size in the USA is a US 8.
This is a European size 39 and a British size 6.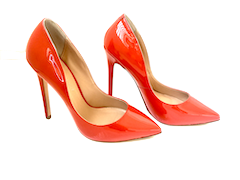 More helpful information about converting between heel sizes
Sizes differ between brands but you should stick to your most usual size
It seems crazy but not all shoe manufacturers use exactly the same sizings.
This can mean that if you're a 7.5 in one brand, it is possible that you'll be an 8 in another brand.
It shouldn't happen, but it does.
You are more likely to get the shoe sizing right than get it wrong
Happily most people who buy high heels online end up with the right sized shoe!
Although many people do have to return heels, the evidence from retailers suggests that return rates are around 35%.
If we accept that this applies to high heels, it means that 2 out of 3 purchasers are happy with their purchases.
Of those who are not, many will be returned because the purchaser did not like the shoe – not because the shoe didn't fit.
This means that most people buying shoes online get the fit right. You are also likely to do so – particularly if you use a trustworthy shoe size conversion chart like our one!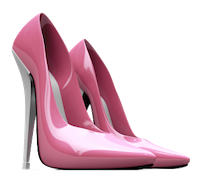 Measuring your feet is hard
Some online sites suggest that rather than converting your shoes size, you should instead measure your feet and pick your shoe size from the measurements.
This might be possible but it is not always easy. Many shoe manufacturers have experimented with different methods to get people to more accurately measure their shoe size when ordering shoes online.
In the end, the usual conclusion is that just ordering your regular shoe size gives you the best chance of getting the correct fit.
Measuring your feet is actually quite difficult to do, and your usual size is still the best guide.
There is no international "standard" for shoe size conversion
Our shoe size chart is based on the best, most widely agreed conversions for shoe sizes.
Not all shoe size charts will agree with ours because there is no absolute international standard for shoe size conversion.
Even leading manufacturers will differ slightly in their calculations. If you are buying from a brand that publishes its own shoe size conversion chart then you should follow that if it differs from our chart.
Our high heel conversion chart is based on the *most common* conversions between US and Australian sizes and European and English sizes. It is based both on our extensive experience and our research.
Good luck converting the size of your high heels and we hope you enjoy your purchases.