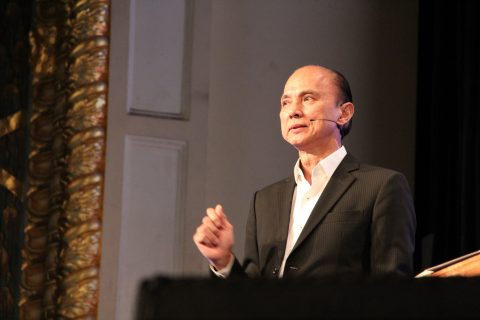 Born inMalaysia in 1957, Jimmy Choo is considered a grand-master of the stiletto heel. Choo made his first pair of shoes at the age of just 12 when working in the family business that was based out of their home.
Choo attended Cordwainer's Technical College to perfect his knowledge of shoemaking while visiting relatives in London in the late 1970s .  He began designing footwear in 1980 under the name "Lucky Shoes", quickly moving to a more custom-made shoe business by the mid-eighties.
Jimmy Choo also continued to build his own shoe line which became known for using exotic skins such as python, embossed leathers and fish skins. He achieved particular fame for his unusual embellishments, catching the eye of many celebrities that included Diana, Princess of Wales.
In 1996, Tamara Mellon, a stylist for British Vogue, approached Choo about taking the company to a larger scale, and would use her father's wealth to back it.  The line was produced in Italy, and grew quickly, selling $400 a pair stilettos around the world.
Frequent mention of Choo's stilettos in the press accounted for their success, such as the Bush twins wearing cashmere boots to their father's inauguration in 2001.
Unfortunately creative differences between who actually designed the shoes soured the partnership between Choo, Mellon, and a niece who was also involved in the partnership, named Sandra Choi.  The Jimmy Choo name was owned by Mellon and Choi, and became its own household name.
The Jimmy Choo brand was listed on the London Stock Exchange in 2014. It was subsequently bought by Michael Kors in a transaction which completed on 1 November 2017.
Image credit (top): "TEDxShanghai Jimmy Choo" (CC BY-SA 2.0) by Lawrence Wang 王治钧
Latest posts about Jimmy Choo…