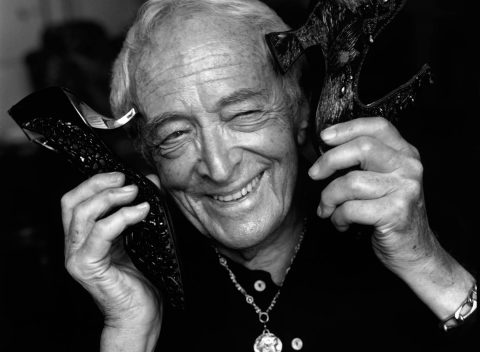 The world of stiletto heels owes its popularity if not its existence to French designer Roger Vivier.  Named for the Italian word meaning small metal dagger, stilettos became an international sensation when Vivier first introduced them in 1954 for the House of Dior.
While the idea of a stiletto heel was hinted at through fetish drawings in the late 1800's, they were not created for mass appeal until his unveiling. Even today, many years after his death in 1998, Vivier is known as the "father of high heels" or the "Fabergé of Footwear."
Roger Vivier's early career
In 1937 Roger Vivier founded his own boutique and atelier (meaning "workshop" or "studio") in Paris, from which he began to sell women's shoes that he had designed.
However, with World War 2 looming, Vivier escaped by boat to the United States of America. There he continued shoemaking until the USA entered the war in 1942 and passed a law restricting the production of new shoes.
Undeterred, Vivier turned his skills to making exquisite hats, opening a shop on Madison Ave in New York. He returned to France in 1947, having taken the opportunity to meet Christian Dior on the boat on the way back. From here his career would really take off.
Post war years
On his return to Paris, Vivier experimented with the use of clear plastics in the footwear industry (yes, like you might see today on stripper shoes) but his key achievement was to team up as the designer for Christian Dior in 1953. This was the first time that a couturier had ever directly associated his brand name with a shoemaker's to promote a mass-market shoe line.
The shoe line took off. During this time, Vivier also created incredible masterpieces of luxury shoes that were worn by the wealthy, celebrities, and even royalty.  Queen Elizabeth II wore his shoes for her coronation in 1953.  His use of opulent silks, jewels, beading, lace, and other appliqués were a credit to his masterful style.
One year later, in 1954 Vivier increased the height of the heels he was producing from 6cm to 8cm (2.3 inches to 3.1 inches).
Using a thin metal rod, he designed the infamous thin high heel of the stiletto as if it were a piece of sculpture, which he had studied at the Ecole des Beaux in Paris.  (Vivier had left his studies to design for a shoe factory in 1936, at the beginning of his career).
Vivier would forever after be known as one of the inventors of the stiletto heel.
Later career and death
When Christian Dior died in 1957, Roger began a collaboration with Dior's successor, Yves Saint Laurent.
His best was yet to come:  in 1967, Catherine Deneuve wore Rogier Vivier pilgrim shoes in the movie Belle de Jour. The movie was a huge success and the buckle "pilgrim" shoes went on to become Vivier's best seller.
Today we still see the legacy that Vivier left behind in the way his designs still influence.
Perhaps unlike modern celebrity shoemakers, Vivier remained a quiet soul – unobtrusive and modest to the end. He died in 1998 aged 91, leaving one son.