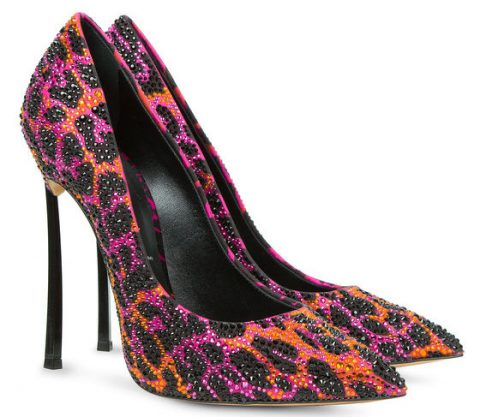 Casadei's blade heel has a new look for spring / summer 2013, and it's elegance all over. The stiletto heel, which we've previously identified as a celeb favorite, has been given a new season makeover focussing on animal-inspired designs – a look known as "animalier." The luxurious nature of the new look is emphasised by the fact that each shoe is embroidered with hand stitched Swarovski crystals.
Creative Director Cesare Casadei explained the look to FashionTV at the launch of the collection via translator, starting with the "blade" stiletto:
"It's called blade because it is a steel razor blade which is inserted onto a tone-on-tone strass animalier shoe. I must say that, as far as I am concerned, it is one of "the" shoes par excellence. Therefore animalier design in the Casadei collection is a very vital thing.
The blade lacquered heel is indeed made of real steel. It is 4.5 inches high with a 0.4 inche concealed plateau. The shoe is called "Jungle Pop," which reflects its animal inspirations. It is available in in three different color combinations: black, orange and fuchsia (top), black, red and blue (above) and black, white and red (below). It retails for $2,400 from the Casadei website.
You can see more of the 2013 Casadei collection for spring / summer 2013 and hear more from Cesare Casadei in the fashiontv video at the end of this article.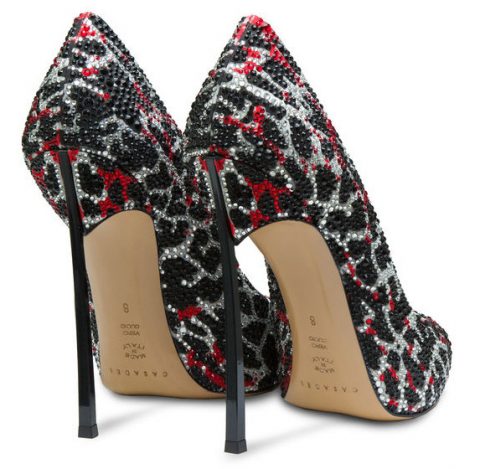 [youtube=http://www.youtube.com/watch?v=jvKa0ZJa4qs]